Beats Solo3 Wireless On Ear Headphones Review
Better sound with less restrictions!
Beats Solo 3 Wireless On Ear Headphones Review

-What You Can Expect

Beats Solo 3 Headphones are Apple's 3rd generation of high-performance over-ear headphones. To someone who has never seen the previous generation, you might mistake the two. But looks can be deceiving.

 

There's more than meets the eye when it comes to this 3rd generation release. What features separate these headphones from others in its class and is it worth your purchase?

 

Find out in Today'sBeats Solo3 Wireless On Ear Headphones Review…

 

Get the best deals on Beats 3 Solo Wireless Headphones on Amazon

 




 

 

 
What's In the Box
Upon opening your box of Beats you will find one of each:
-Instruction Booklet
– Metal carry clamp
-Aux cord input
-Charger
-Carrying pouch

Same Great Design Just Better
Beats took a similar approach in designing the 3 with an almost identical model to its predecessor. Although these look like twins at first sight there are things that separate the two that should be noted. The main difference is Beats 3 are completely wireless.
I think its safe to say most of us have experienced the frustration of a cord messing with our music experience at one point or another. They can be a workout nightmare and seem to get stuck just about everywhere.
With Beats Solo 3 Headphones you won't have to worry about that anymore. Not having a cord is not a problem. And that… Is something can get used to. If you still want to use a cord you have the option to do that with the aux cord cable.
Beats Solo3 Wireless On Ear Headphones Review- Connect And Go
Beats 3 introduced the V1 chip making Bluetooth pairing to Apple devices extremely simple.
-Simply place it by your device.
-Make sure both are turned on.
-Hit accept and you're done!
This feature is great and most convenient for apple users. Android users can still pear your devices too. The process just isn't as simple.
Say Hello To Comfort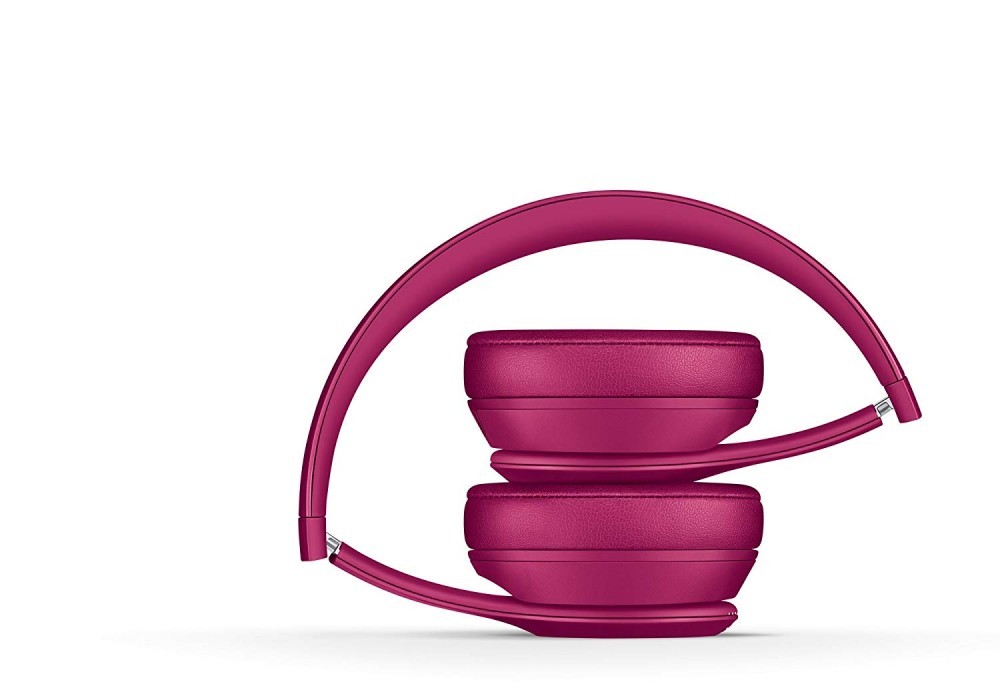 Skip play and pause without pulling out your device! That in itself scores major brownie points. But there's more!
The cushioned adjustable ear cups make for easy listening. I can wear these for hours without realizing there on.
The folding collapsible design is great for traveling and storing in small places. The pouch is a nice touch and makes carrying even more convenient.
Take the symphony with you
Experience better Harmony And Balance.
Beats have had a past reputation of delivering extreme bass that can discourage some audiences. Upon testing the sound quality in Beats 3 Headphones music was crisp and well balanced. The Bass was nice and didn't feel overpowering.
While listening I felt isolated like I was front row at a concert. Occasionally I hear parts in music that I didn't know were there before! Beats 3 headphones can definitely give you a new perspective allowing you to hear things you've never heard before and get fully involved with the experience.
Battery Life for days
We all hate being in that position where you have to stop what your doing to charge your device because of a dead battery.
With Beats Solo 3 you can enjoy up to 40 hours of continuous play. If you ever get to the point of being low on battery in a pinch you can use the fast fuel charging feature. It will give you 3 additional hours of power in just 5 min. Depending on your music needs battery power will fluctuate a little.
I personally am a heavy beats user and use them every day for several hours. It's been over 3 weeks and I still have not had to charge my headphones.
Need I say more?
Conclusion
So there you have it ladies and gentlemen Beats Solo3 Wireless On Ear Headphones Review.
All in all Beats Solo3  gets a solid score of 4 out of 5 stars.
Not only is the design comfortable and convenient but the sound is rich, crisp, and intense. Everything that I look for in a good pair of headphones. Noise Isolation was excellent and battery life exceeded my expectations by far.
I have never needed to use the 5-min power up but is a great addition to have. These headphones have given me more freedom. To do what I want without restrictions while enjoying the fantastic sound. That's exactly what I was looking for.
If you're in the market for a great pair of professional wireless headphones. I highly recommend giving these a try.
You will be glad you did…
What do you think of your Beats Solo 3 Wireless Headphones?
Join the discussion and leave your thoughts below!