What Is Click Funnels – Do You Need It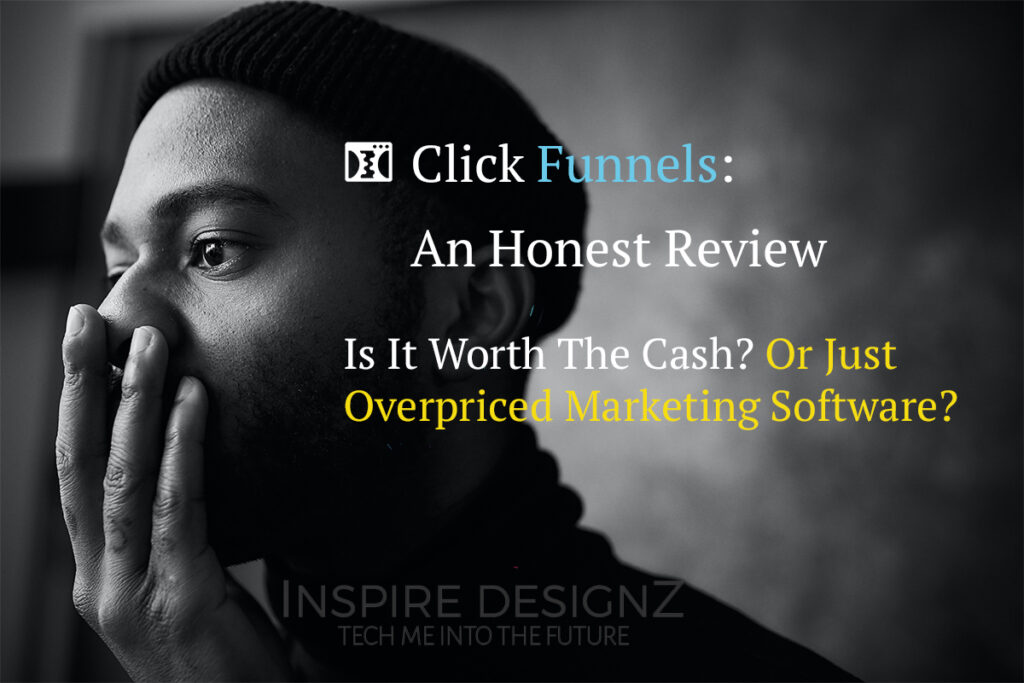 What Is Click Funnels:
Click Funnels Pricing Review
---
Need help in your online business generating leads or selling a product?
Click here to consult our digital agency. From market research, to funnel creation and advertising. Inspire Designz is your ultimate solution to getting customers to your doors and buying your products.
Contact us here today to schedule your free consultation.
So What Is Click Funnels?
Click funnels is a sass (software as a service) based software that is making waves in online business since 2014 by Russell Brunson. The internets Goat of online advertising.
Russell's journey in marketing trails back to the age of 13 where he developed a strong passion for marketing by staying up to watch late-night infomercials and reading all the junk mail he could get his hands on.  After years of repeating this Russel began to notice a special process and pattern…  The online sales process.
Reading these types of sales letters over time became fascinating to him and taught him important principles about direct response marketing. He started to fully immerse himself in the study of online sales.
Trying other people's products and services. Testing what was working and why.
Since learning, studying, and applying the concepts he's learned he has gone on to be one of the most influential marketers in the digital space today.
In 2014 launching Click Funnels was born. It became the number one funnel builder and sales/lead generation system used by over 3 million independent business owners and software companies around the world despite its direct competition.
Clickfunnels is arguably one of the most well-known software used in marketing today. Its popularity can't be denied…
But who is Click Funnels for and is it worth your purchase?
In this Click funnels 2021 review, we will get into all the juicy details of what you can expect from this software after using it consistently for over a year. Were not missing any details and saving the best for last in this in-depth review…
So let us get to it then shall we?
What Is Click Funnels Review: Highlights
Easy to use drag and drop page builder
Build landing pages quickly and effortlessly
Smart integration system that allows you to connect most autoresponders and text opt-in forms.
Easily compatible for mobile and desktop design
Track leads and sales with precise analytics from all social platforms
Manage multiple marketing funnels for clients and businesses.
Change and create domains easily for landing pages and websites
Receive logged information of fresh leads and sales in real-time.
Purchase high converting funnels and other similar products at Clickfunnels Marketplace.
Great place to learn additional training.
---
What Are Sales Funnels And How Do They Work?
Before I explain what a funnel is Ill explain the process behind why having a funnel in any business is so important…
I wanna be clear that this concept of building funnels is something I learned through dot com secrets by Russell Brunson.
I am not the creator of these strategies but I have experienced the benefit of using these systems and processes in my business and I wholeheartedly believe when used correctly it has the power to transform anyone's business.
For more information on dot.com secrets please click here to read my in-depth review.
In today's day and age if you have a business chances are you have a website.
The problem is that websites today can be extremely complicated…
So many distractions are on a website and if it's not designed properly it can lack direction for your potential customers.
It isn't uncommon for visitors to go to a webpage just to be hit with annoying pop-ups or worse to land on a site and have no idea how to navigate to their goal.
The visitor often leaves feeling annoyed, frustrated, and confused. Only to exit off your website and look at a competitor in hopes of finding what they need. Because a confused mind always says no…
Is this something your experiencing with your business?
LARGE NUMBERS OF TRAFFIC TO YOUR OFFERS BUT Few If Any CONVERSIONS??
If you have a website this is one of the worst things that can happen for your customer base.
I know… Frustrating to say the least.
And it has started a well-known trend called the death of the website. Why? Because if you're not collecting leads or making sales you aren't making money. And if you aren't making money you won't be in business for long…
This can be an uncomfortable topic for many. Making no money in online business but the shocking truth is that over 80 percent of affiliate marketers are broke because they fail to do one thing correctly…
They fail to collect leads and make sales consistently.
So what can we do as marketers to start tracking customer behavior, helping the customer understand our offers and products so we can actually start profiting??
That is where Click Funnels comes in…
Click Funnels revolutionizes the process for marketers around the world by creating a system where you can effectively collect leads and sell products without having to take the time to build big bulky websites.
This system allows you to track your customers from the lifetime of their relationship through each step in the sales process.
You can track this process by building funnels. Each step in the funnel is designed for maximum conversions.
What Is A Marketing Funnel?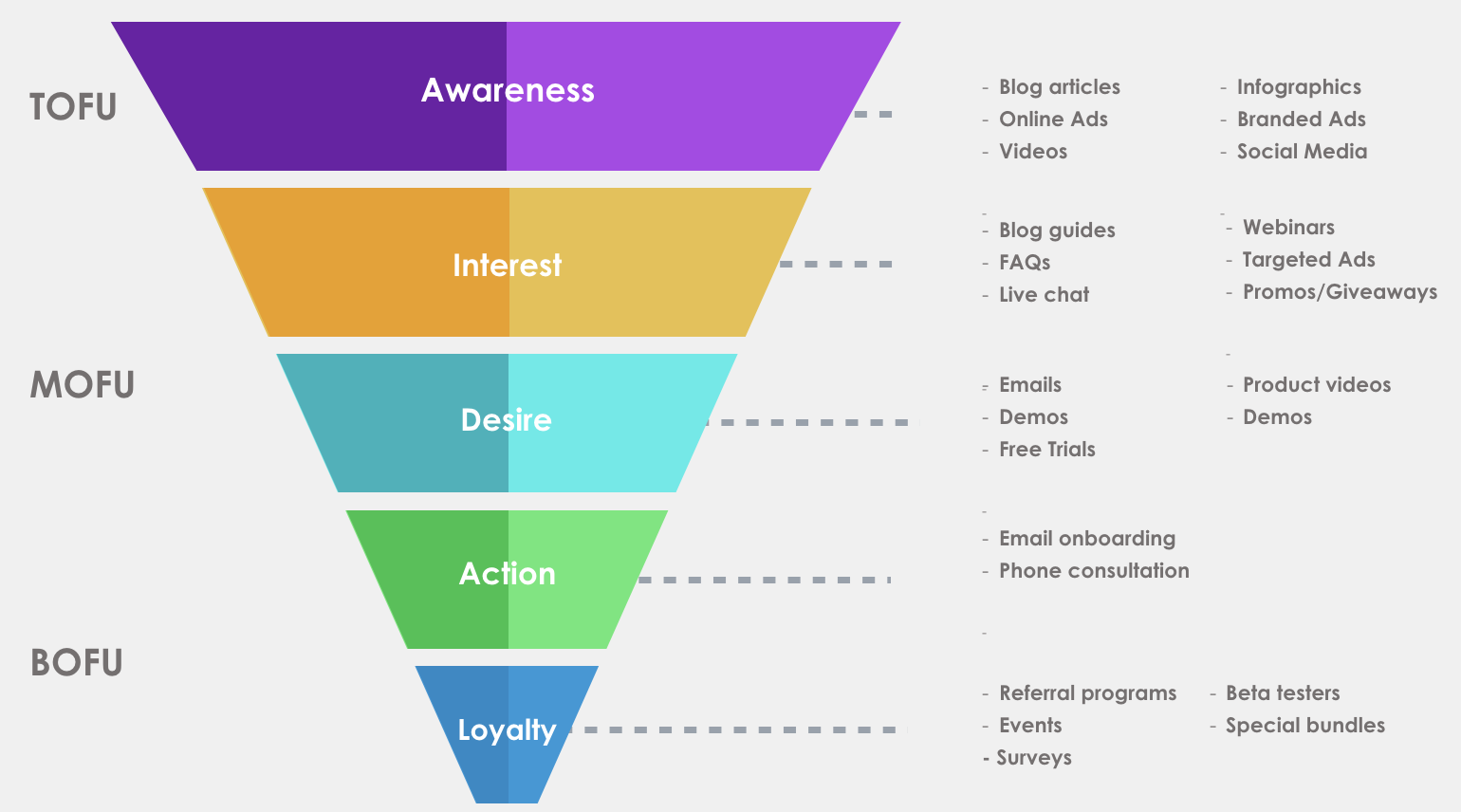 I like to think of a funnel as a system or process.
A funnel can be another way of offering personalized attention to your audience dependant on what stage their at in the purchase lifecycle.
For example, any customer that comes in contact with your brand is at one of these 3 stages in their journey.
Stage 1) Awareness/ Interest
Stage 2) Desire/Solution Aware
Stage 3) Action
#1 COLD TRAFFIC Stage 1 (awareness/ interest): TOP OF FUNNEL
This traffic source is the hardest to convert to a sale.
These are people that have never heard about your product or brand and are just being introduced to your business for the first time so it will take them longer to warm up to you or your brand.
Studies show that on average it takes a customer 3 to 6 times to see a companies advertisements before feeling familiar enough to make a purchase. So the journey that you take them through learning about your product or service is generally longer.
#2 WARM TRAFFIC Stage 2 ( Desire/Problem Aware ): MIDDLE OF FUNNEL
These customers are aware of the problem that they face. They may even be actively searching for a solution.
Chances are they have seen your ads or interacted with your brand. They may be on your email list as a subscriber but have not made any purchases or long term commitment to a subscription.
#3 HOT TRAFFIC Stage 3 (SOLUTION AWARE): BOTTOM OF FUNNEL
These customers are aware of your products and services. Most have already made purchases or added to cart.
These customers are likely already in your email list ascending your value ladders and using your products.
So basically you're giving each customer specialized attention based on where they are at in their journey guiding/funneling them to your products and services so that you can serve them at the highest level.
If you think this sounds amazing your right!
Its become a big deal in online marketing.
Russell Brunson didn't just get rich from creating Click Funnels he became rich from teaching others how to use it too!
---
Who Is Click Funnels For?
Are you familiar with paid advertising or online marketing?
Do you know what a funnel is or how to build one?
Do you have the patients to learn?
If you answered yes to any of those questions then Click Funnels can be for you.
Click Funnels thrives for PPC campaigns but can also be used together with SEO.
This software helps business owners and entrepreneurs collect leads or sell products online.
So, technically if your a business selling a product or service. Weather B2B OR B2C and more Click Funnels can be beneficial for you.
---
Funnel Types:
There are many different types of funnels and they can be created in any business industry.
Funnels like:
#1 FREE PLUS SHIPPING FUNNEL,
#2 SLO FUNNEL,
#3 INVISIBLE WEBINAR FUNNELS
AND MANY MORE.
Click Funnels can be ideal for Affiliate Marketing, Dropshipping, Amazon FBA, Shopify, brick and mortar, and many other business models.
Pros – Click Funnels 2021 Review
Pro#1. Build And Design Funnels Within Mins
Chances are if you don't have Click Funnels your using a website or website builder to build your landing pages for offers.
Which sucks because that's taking a lot of time…
Not to mention your PROBABLY USING google analytics for tracking your customer data.
You'll also likely have a web hosting account for running multiple offers to different domains.
So basically your managing a ton of different accounts.
AM I RIGHT?
WELL if you want something that allows you to streamline your projects with ease Click Funnels is a great option to consider. With Click Funnels you can forget logging into WordPress and creating a post.
When you have multiple products and multiple offers you need something that can get your landing pages up quickly. Something that can be customized for any offer.
One thing I really love about Click Funnels is that it offers the versatility to get just about any page up and online quickly.
Whether it's a lead generation funnel for a dentist, a sales funnel for an e-commerce product or a webinar funnel for an info product Click Funnels can handle the job without forsaking professionalism. It's both desktop and mobile-friendly.
There a ton of styling options to choose from. Use the easy to use drag and drop editor if you wanna keep things simple or open up the HTML editor if you like to code and want to add additional styling options.
When you're done creating you can pause, save, duplicate, tweak, or delete your funnel in seconds and if you have an existing blog you can also integrate Click Funnels with your CMS system for even more customizability.
This is a great benefit if you have a pre-existing website or blog and wanna build funnels as an additional sales/lead generation system in your business.
So put some music on, hop on your laptop and spend some time in the template builder while you build your next masterpiece…
Pro#2 Easy To Read Accurate Display To Track Your Sales And Signups In Real-Time

Does software like google analytics give you a headache?
Does tracking behaviors and event data make you wanna hire an in-house market research team?
Managing customer data can be a bit strenuous at times, to say the least…
With Click Funnels, the process of tracking sales and customer events is simplified. So simple that just about anyone can use it.
Click Funnels keeps a record of fresh leads and sales so you can track your customer events in real-time the moment they happen. So there is no confusion on when and where your customers came from.
They also have FB, google, and other ad tracking options for your funnels. Making it the perfect funnel builder that can be used with any social media platform. All logged info can easily be shared with team members and clients and is ready to be uploaded to google docs at any time. Click Funnels makes a great centralized location for all your important data in one place.
Pro #3 Manage up to 20 funnels with the standard package
As you get comfortable building funnels you'll start to have multiple funnels for different offers and products.
A funnel can consist of many different pages.
Depending on how you choose to build your funnels you can have up to 100 pages on the standard account.
20 funnels are the max amount you can create for the starter package so this can be a great starter option for managing client accounts if you're running an agency.
Clickfunnels also offers a premium package called etison sweet for those wanting a few extra features like more space for funnel building, email marketing, and an extended affiliate program called backpack.
---
Pro #4 Test different variations of your landing page with Ab Testing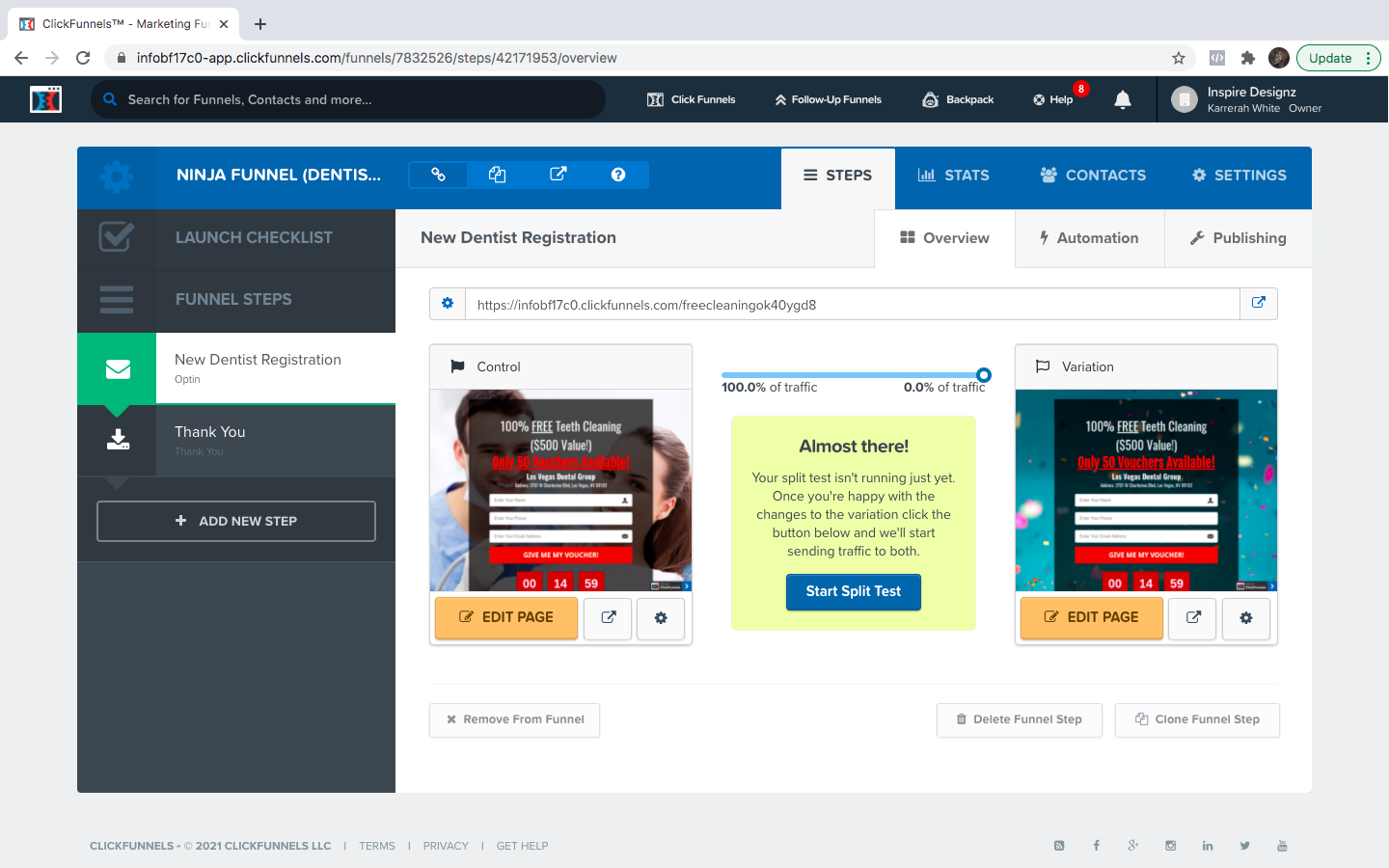 Clickfunnels offers a sweet feature so you won't be confused about which copy of yours is performing best.
That feature is ab split testing. As marketers, we're always testing…
Testing copy, testing funnels, testing ads, and doing our best to improve ROI.
Testing can be a total nightmare if your not being organized with your projects.
Click Funnels makes it easy to set up a split view. You can change the copy and compare landing pages when you wanna test what's working. Precise tracking will show you which page performs the best and you don't have to go through hoops to feel like your understanding the information.
Some claim that Click Funnels is too easy but In my opinion, I think that couldn't be far from the truth.
Why make things complicated when they can be easy?
Buy your domains, set up funnels, and manage your email marketing all from the same software.
Pro #5 Click Funnels Has All The Training You Need
Click Funnels offers a variety of options when it comes to learning about digital marketing.
I found this to be really helpful in all areas of marketing and advertising because the web changes so quickly.
Being able to be apart of these training groups on a regular basis gives me the feeling of staying connected and keeping up with the times. Below is some of the training included in the membership: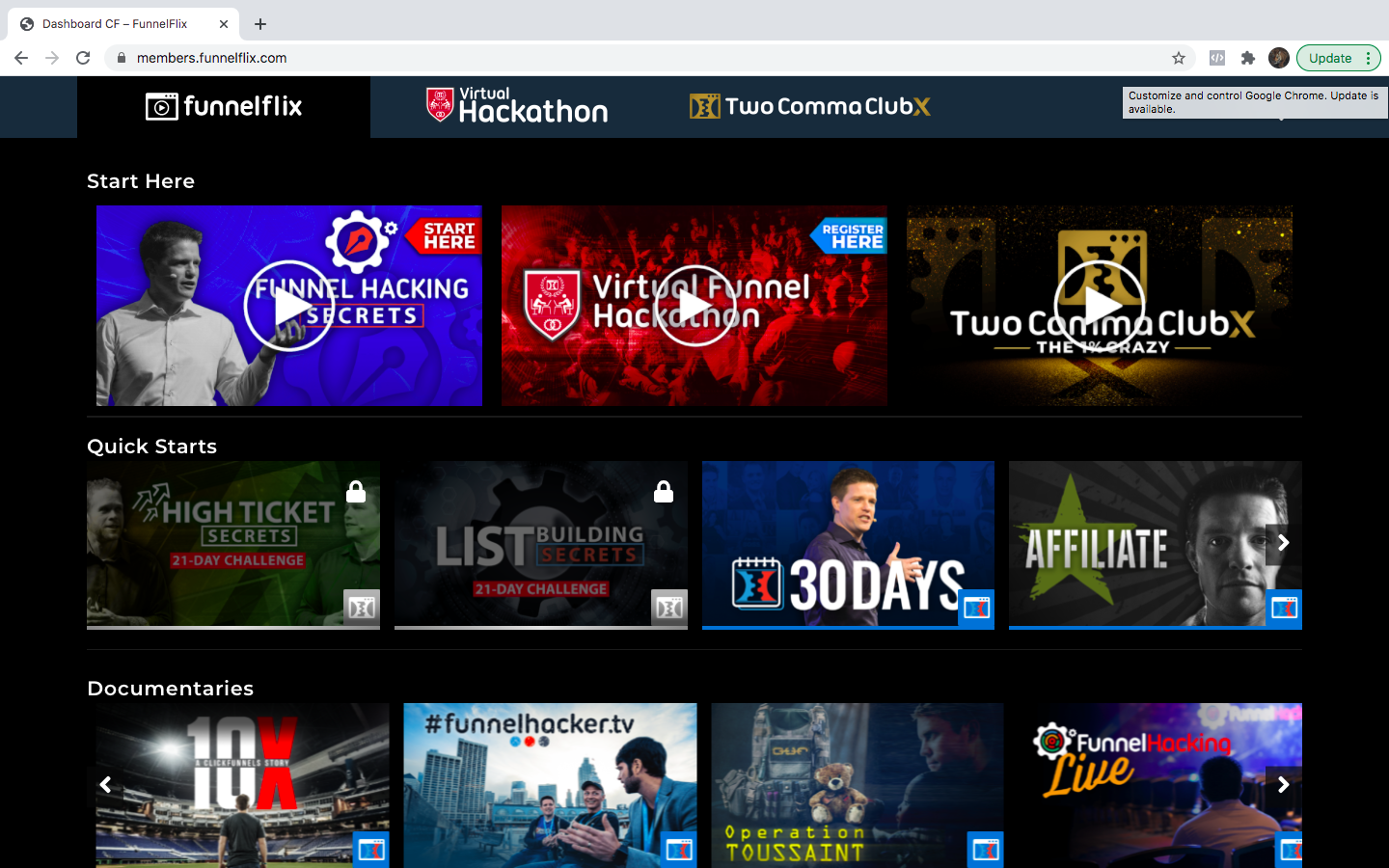 FUNNELFLIX – Engaging marketing videos that are in tv show format. Similar to a Netflix-like platform.
FUNNELHACKING – Learn to reverse engineer the process of successful funnels.
HACKATHONS – Learn how to build funnels in a classroom setting.
PODCASTS –  Stay up to date with market trends.
YOUTUBE TRAINING – hundreds of other marketing-related topics.
And more…
The training can suit learners of all types.
I love that I can connect with others in the industry to network, grow, and help each other.
Having these additional courses and training can be a real benefit.
Pro #6 ClickFunnels Is An All in one great value
After testing and using Click Funnels for a full year I have to say that I am very happy with this product.
Out of 5 stars, I would have to give it a solid 4.5 because it has changed my online business and helped me to achieve a lot of my goals faster by building a customer base and selling different products and services with these sales funnels.
It's one of my favorite softwares to use and I think it's unmatched in its features and capabilities compared to other similar products. Click Funnels also offers generous commissions through their affiliate program.
So If your already a current customer then their affiliate program comes as a no-brainer to promote. Why not recommend something you already use and get a monthly commission for those products?
Learning the Click Funnels system is a small learning curve but once that is over it's pretty solid and the platform isn't constantly changing like some other platforms.
Cons – Click Funnels 2021 Review
Since you can't have the good without the bad below are the biggest cons about using this software…
Con#1 Lack of PHONE NUMBER for Customer Service
One of the biggest things that irritate me about Click Funnels is their lack of prompt customer service. When shit hits the fan sometimes you just need to talk to someone and you need to talk to someone fast. At times Click Funnels has left me feeling royally fucked..
At the time of this review, it is in the middle of the pandemic and I believe this probably has a lot to do with why there could be issues responding to customer issues so I will continue to monitor this in the future with updates.
For the most part, functions work as they should but for that small percentage of the time, you may experience technical difficulty with your funnel and you may find yourself having to reach out to customer service.
In this case, your fucked, and let me tell you why my friend…
Customer service is not the fastest and you may find yourself waiting days to get a response.
Days when you have a live funnel that YOU WERE DRIVING LIVE TRAFFIC TO.
Causing you to have to pause the funnel. In turn, POSSIBLY losing money if the situation isn't handled quickly.
Until the issue is resolved you may be forced to find your own solution at times which may involve doing a little extra work like duplicating and rebuilding a previous funnel that for some reason was not working correctly.
I've never been left without ultimately finding a solution that worked for me.
It can be frustrating and annoying at times but I found this still bearable to deal with. In the end, nothing is perfect.
I recommend diversifying your marketing channels so that you aren't completely reliant on one source…
Click Funnels Pricing – How much is Click Funnels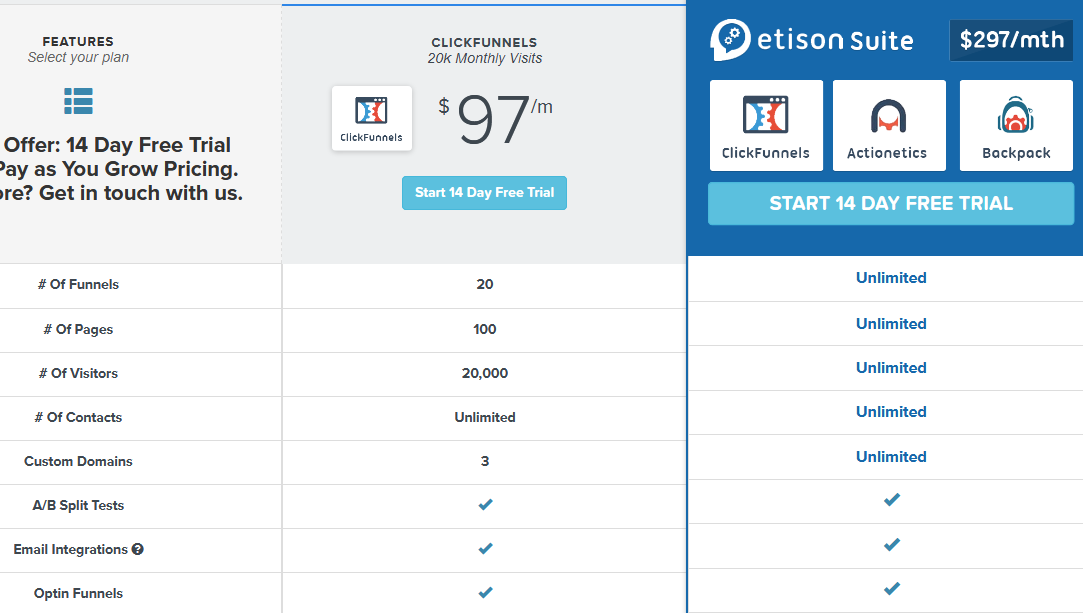 Click Funnels has 2 pricing options. $99 per month and $297 per month.
The differences between these two are that with the etison suite version you can have unlimited space for more features. Like pages, visitors, contacts, and more. There's also access to additional affiliate features with backpack.
The premium version offers more options when it comes to creating your own affiliate offers but it's good to keep in mind the original package offers many marketers more than all the essentials they need to get started.
Want to try ClickFunnels Free?
Click Here To Get Your Free 14 Day Trial For A Limited Time
---
Full Features LINEUP – Click Funnels 2021 Review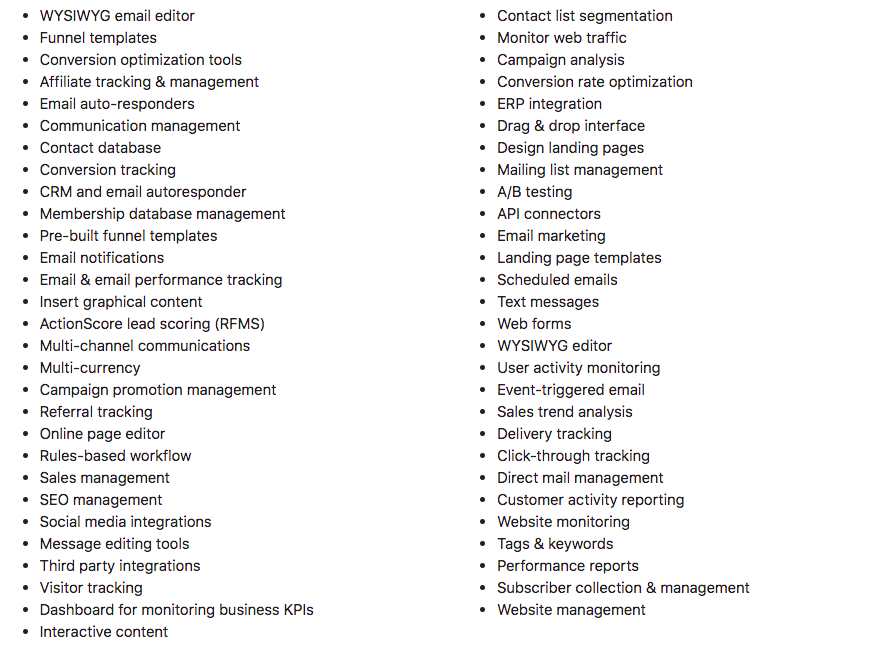 ---
Conclusion
At the end of the day, Click Funnels has proven to be a solid marketing software. Scoring a 4.5 for its powerful capabilities, ease of use, and reliability to handle just about any web-based project.
While we all may be wishing it was cheaper its services offer a solid value for its price.
Not only does it allow us marketers and business owners to sell our products and services more effectively but it helps us to better understand our customers in ways that were not available to us before while keeping up with important marketing trends on a day-to-day basis.
As the web continues to evolve more and more businesses are switching to advance software like Click Funnels. So learning how to use it can give any digital marketer a leg up on the competition.
At one point I didn't think Click Funnels could benefit me and my business but I am so thankful I started using this software.
Over the past year, it has made my life easier and become a necessity in my business.
At this point, you can say I'm a loyal fan so unless I find something cheaper that offers the same stellar features and community it just wouldn't make sense for me to use anything else…
I often see other competitors that are offering cheaper services with fewer features but cheaper does not always mean better.
You Will Always Find Someone Who Can Do It Cheaper…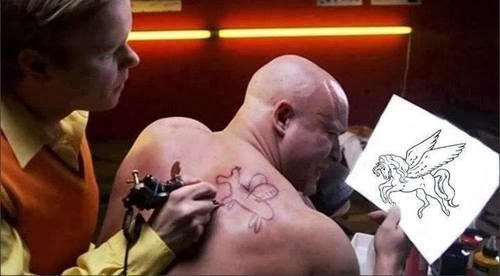 Product: Click Funnels
PRICE: $99.00/Mo
OVERALL SCAM RANK: 0 OUT OF 100
VERDICT: 100% LEGIT 4.5 out of 5
---
So there you have it ladies and gentlemen my honest review of What Is Click Funnels – Is It Worth Your Purchase?
I hope this review has been helpful for you. If so please like us on Facebook and join our marketing secrets newsletter where you will receive weekly marketing tips, free product giveaways, and more.
Has Click Funnels been a great addition to your business?
Feel free to join the discussion and leave your comments below as comments and questions are always welcome in the discussion…
See you in the next article! 🙂
Click Here To Try ClickFunnels Free!
Interested in using Click Funnels to gain more leads in your business?
Click the link below to take the 30-day lead challenge and learn
the secrets to gaining more leads and making more sales today.
Click Here To Take The 30-Day Challenge