My Mailchimp Review: 4 Tips You Should Know Before Getting Started
There comes a time in every marketer's journey when you need to start using autoresponders if you're serious about your business. After all, the moneys in the list. But with so many choices and different pricing, it may be hard to find out which service best fits your needs.
Well, fear not my marketing friend. You have come to the right place…
In today's article we will be covering some important details about Mailchimp you should know before getting started, what you can expect and who can benefit from it most.
So brace yourself because we are about to cover the good, the bad, and the ugly In my Mailchimp review!

Mailchimp Review
Name: Mailchimp Email Marketing
website: www.mailchimp.com
Owners: Ben Chestnut, Mark Armstrong, and Dan Kurzius
Overall Rank: 5 out of 10
Mailchimp Review Product Overview
Mailchimp is an autoresponder that has an easy to use drag and drop interface offering lots of custom features to help you understand and communicate with your audience. Choose between sending broadcasts, drip campaigns or an automated email sequence.
Mailchimp also comes with detailed reports to help you know when and where your visitors are coming from as well as how often they click on your emails. It comes with several price options as well as a forever free plan.
After your requests I went ahead and signed up for this software and after using it for several months below is my personal Mailchimp review…
The Good and the bad
The good:
PRO #1 Free account up to 2,000 subscribers
PRO #2 Send up to 12k emails per month.
PRO #3 Detailed analytics reports
THE BAD:
CON #1 Low success rate for affiliate marketing
CON #2 Tedious extra steps for affiliate marketing
CON #3 No customers service support on free accounts
Mailchimp Is Not Ideal For Affiliate Marketing
Mailchimp Forever Free is a good standard email marketing software. Comparing it to other popular autoresponders you can have up to 2k subscribers vs 500 with many paid plans so this is a plus if you have a large business but unfortunately its not reliable if you plan to use it for affiliate marketing.
Mailchimp has a very strict policy on affiliate marketing stating in the terms and conditions that it is not allowed. There are some ways around this by creating a separate landing page or cloaking links but it will be an extra step in the process and chances are you will run into some issues with their policy eventually.
After signing up and completing my first campaign I tested out an affiliate link that was cloaked. I was hit with a compliance strike a few days later that paused my account. I was unable to send messages but my forms still worked tracking sign ups.
The only option you are given on a free account is contact compliance to resolve the issue by email. Because they don't have support for free accounts after 30 days. Unfortunately for me customer service never got back to me in 30 days during the free customer service support.
No Customer Support For Free Accounts After 30 Days
I continued to wait to see just how long things would take before the issue was taken care of and It's a good thing I wasn't holding my breath. Unfortunately I was waiting for over 3 months and still never got a response. However, my forms still worked to gain leads and see who was signing up. I was sent the following message in my autorepsonder and by email…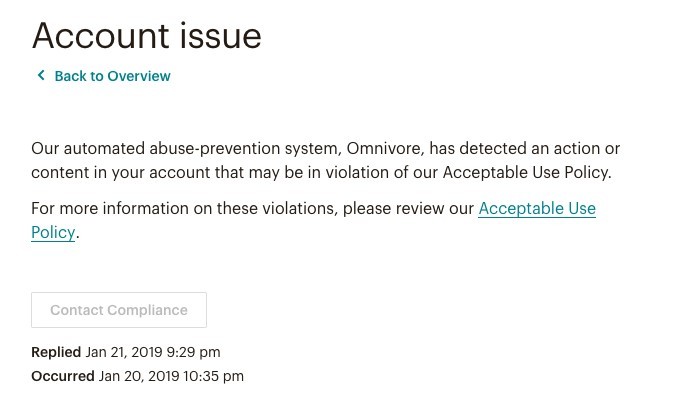 If the issue is not corrected in an appropriate amount of time having your forms work and creating campaigns without being able to send completely defeats the purpose of having an autoresponder.
The lesson I learned from all this is that Mailchimp is not a good autoresponder for affiliate marketing. Free accounts are not a priority and you will be left hanging for months and so will your customers.
Not a good start for any business.
Is It Impossible To Use Mailchimp For Affiliate Marketing
There are some ways to use Mailchimp for affiliate marketing as mentioned above by cloaking all your links and creating landing pages for your product. Both of these options could work but they are short-lived and there is no guarantee that these techniques will work permanently.
Some campaigns might work for some time… and others… Well, you could end up getting a compliance strike eventually. The future is uncertain with each campaign. I personally like to stick with what I know works and white hat marketing techniques.
My Mailchimp Review: Who Is Mailchimp For?
If you aren't an affiliate marketer Mailchimps free option could be very beneficial if your tech savvy and don't plan on using tech support. But if you are an affiliate marketer this is most likely one autoresponder you want to stay away from. As it can cause more headaches in the long run.
There's nothing like taking the time to set up your forms and writing out campaigns just to have your account banned with a compliance issue that never gets resolved.
Since Mailchimp doesn't offer customer service after the first 30 days of your account you will be on your own with any issues you encounter.
My Mailchimp Review Conclusion
Because of lack of customer service support for free accounts I wouldn't recommend it to anyone financially dependent on their business. However, if you are not an affiliate marketer, and want to know how to use these tools while on a budget this could prove to be helpful and better than no software at all.
If you have a little extra money to spend I highly recommend getting an affiliate marketing friendly autorepsonder like Aweber or Mad Mimi even tho these services do cost money. Remember It takes money to make money in business.
Having the peace of mind knowing that customer service has your back in case something serious happens with your business is always a good thing.
After all, the moneys in the list.
MAILCHIMP AT A GLANCE
NAME: Mailchimp
WEBSITE: Mailchimp.com
PRICE: Forever free plan
Overall Rank: 5 OUT OF 10
VERDICT: NOT GOOD FOR AFFILIATE MARKETING
So there you have it ladies and gentleman my personal Mailchimp review. As always if you have any questions or concerns about Today's article please leave them below as comments and questions are always welcome in the discussion.
See you in the next article! 🙂
Ready to take your marketing skills to the next level?
Want more marketing Resources? CLICK HERE!!